Quad QSX-1 Pick and Place
Quad QSX-1 Pick and Place System
High Precision SMT Assembler
The Quad QSX-1 features the industry's most advanced placement technology, setting a new standard in ultra-fine pitch precision. Every aspect of the QSX-1's platform is built to sustain fast, accurate placement in stand-alone or in-line environments. Its rigid frame provides unsurpassed mechanical stability. Unique linear servo direct-dive motors provide an operational smoothness.
To further enhance performance, the QSX-1 combines Quad's high-resolution vision system and patent-pending QuadAlignTM component lead inspection and alignment technology.
Simply put, the QSX-1 is the most accurate, repeatable assembler available. It offer cutting edge technology to meet your current and future SMT production requirements.
Quad QSX-1 Pick and Place System Features:
Dual gantry design provides placement rates up to 7,000 cph takt time
Handles board sizes from 3.2" x 3" to 19.3" x 25"
In-process QuadAlign touchless centering from 0402 through QFP208 and BGA (* Requires Optional ThinPRO Feeder)
Quad's innovative P4 (Pick-Pick, Place-Place) head technology
Exclusive QSOFT operating software with Windows ease of use
Detachable feeder bases and carts for rapid changeover
Noncontact linear encoders
Programmable transport
Optional Intelligent Feeder System for setup verification
0.3mm ultra-fine pitch capable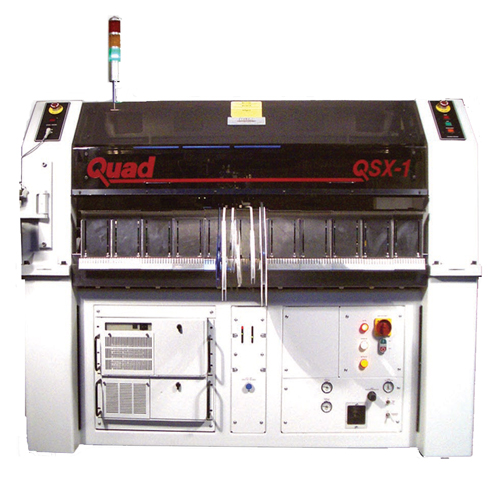 Quad / Tyco Repairs, Spare Parts
PPM is an exclusive supplier and manufacturer of replacement parts for its QUAD product line... »»
---